After almost a decade, music will finally be heard again at Filer Middle School in Hialeah, FL. Together with JetBlue, we delivered instruments part of our Core Band Grant.
The decision was prompted by a former band teacher and group of alumni who advocated to bring the music program back. They traveled from all over the country to attend the event.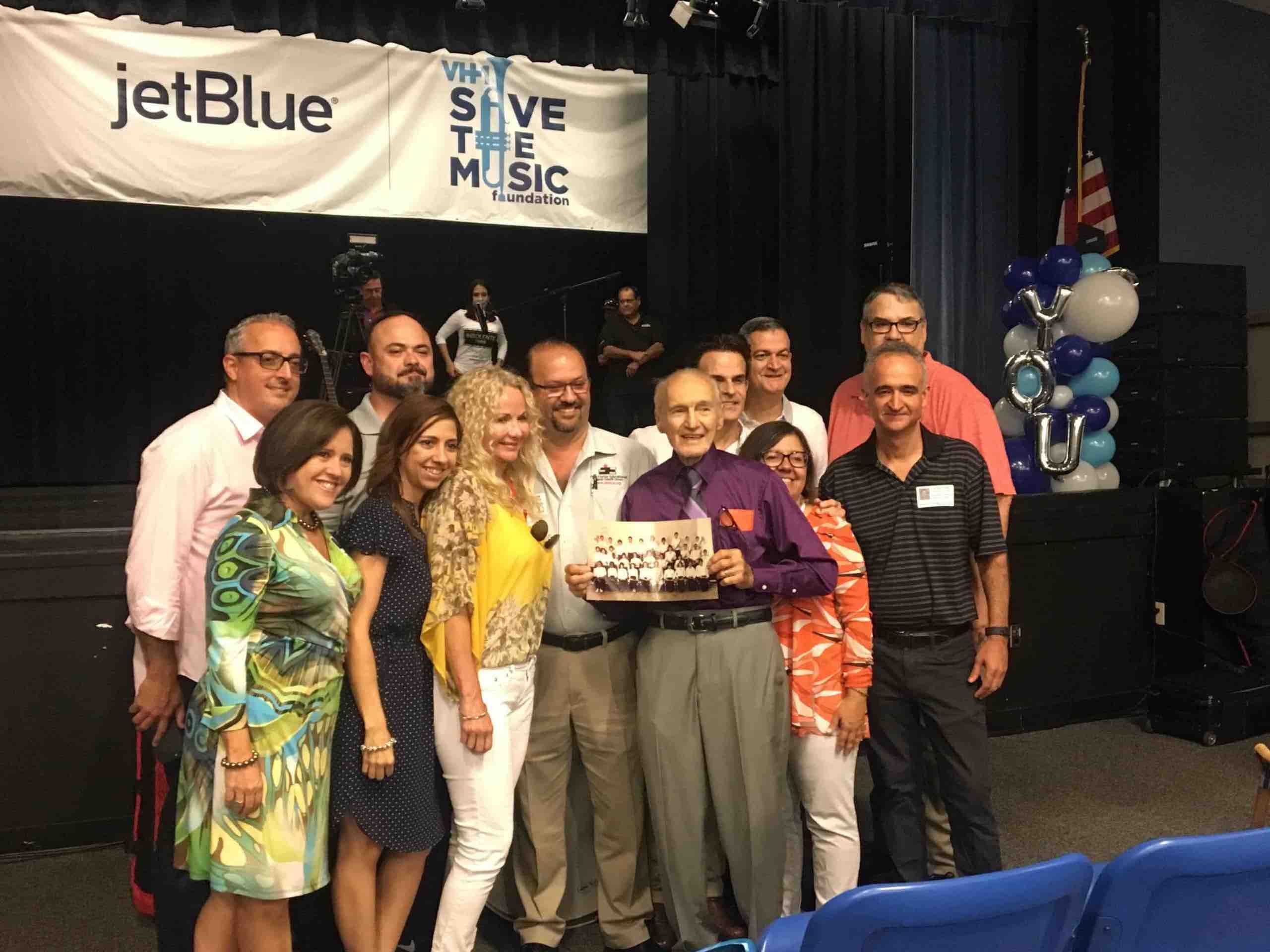 The celebration included a surprise visit from Emily Estefan. Emily, who performed and answered students' questions, has a close connection to the Foundation.
Her mother, the one and only, Gloria Estefan, was one of the original VH1 Divas. The live concert, which featured memorable performances by female powerhouses launched the VH1 Save The Music Foundation and raised funds for our organization. In 2015, Gloria debuted her original song, "America," during the 39th Annual Macy's Fourth of July Fireworks show featuring the choir at Park Place Community Middle School, a 2014 STM grant recipient in Brooklyn.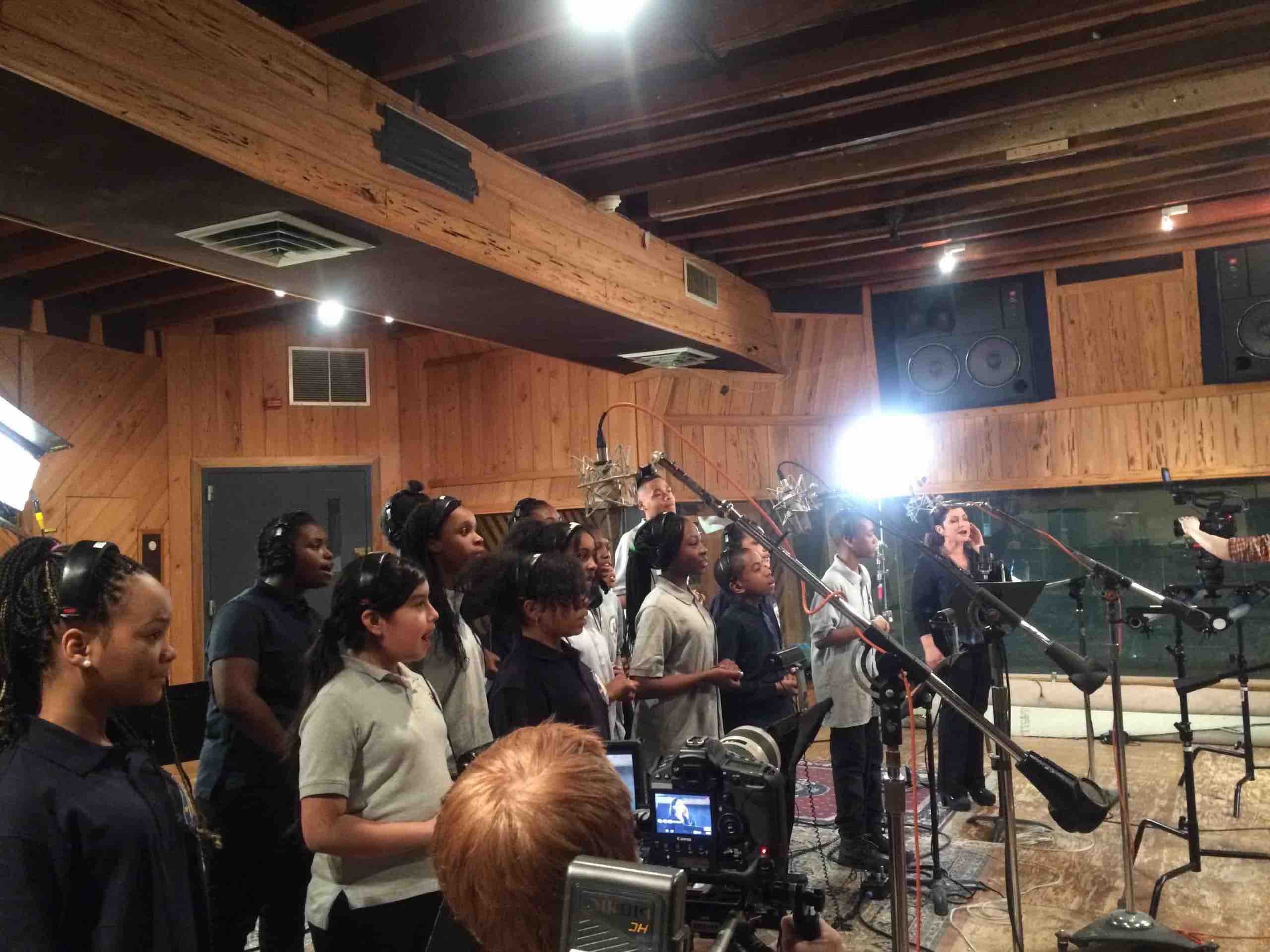 In addition, Emily's late grandmother, Gloria Fajardo, taught at James H. Bright/J.W. Johnson Elementary School where STM will be donating a General Music Grant in the upcoming school year.
Thank you to Emily, JetBlue, and Filer Middle School students, staff, and alumni for helping us bring the beat back to Miami!
Press release:
NEW YORK–(BUSINESS WIRE)– JetBlue (Nasdaq: JBLU), the largest airline at Fort Lauderdale-Hollywood International Airport, today announced a special partnership with the VH1 Save The Music Foundation to reintroduce music to students at Henry H. Filer Middle School in South Florida. This school located in Hialeah, Fla. has been without a music program for more than nine years. On August 28, 2018, JetBlue and VH1 Save The Music joined forces to donate musical instruments so the school can add music back to its curriculum. As a special surprise, singer/songwriter Emily Estefan performed a pop-up acoustic set at a special school assembly.
This press release features multimedia. View the full release here: https://www.businesswire.com/news/home/20180828005849/en/
With a focus on STEAM (science, technology engineering, arts and math) education, JetBlue has been a proud partner of VH1 Save The Music for more than 10 years, raising more than $300,000 to boost the Foundation's mission on a national level and save the music in public schools across the country.
Nearly one in three American students don't have access to a music education program, and an overwhelming majority of these students come from lower-income families or are in schools that often lack the resources to provide musical instruments and full-time music teachers. VH1 Save The Music was the first organization dedicated to restoring these music programs. Since 1997, the Foundation has donated $56 million worth of new musical instruments to more than 2,100 public schools in 261 school districts around the country—impacting millions of public school students. JetBlue works with VH1 Save the Music to introduce music and the arts to students in traditionally underserved communities.
"At JetBlue, we focus on encouraging STEM education – science, technology, engineering and math. The Arts are equally important to add to this equation to stimulate learning and for creative thinking," said Elizabeth Windram, vice president marketing, JetBlue. "Music is important in school and in life. These brand new instruments will help Filer Middle School expose students to the possibilities that the arts can provide."
JetBlue has donated instruments and provided grants to a variety of schools and programs, shared the mission through onboard videos, created awareness campaigns, hosted surprise musical performances and offered other in-kind support. Additionally, JetBlue has supported the foundation's Keys+Kids Piano grant program and sponsored events such as Hamptons LIVE, Musically Mastered Menu, Family Day, Songwriters Music Series and VH1 Save The Music's annual gala.
"We are thrilled to be a part of restoring the band program at Filer Middle School," said Chiho Feindler, Senior Director of Programs & Policy at VH1 Save The Music. "We believe that every student should have access to music education and are looking forward to the students of Filer Middle School now being able to make music at school!"
To round out the donation event, singer/songwriter Emily Estefan surprised students, teachers and administrators with a special performance. Growing up surrounded by music, Emily naturally developed a deep passion for the craft at a very young age. That passion grew as she did. Emily founded Alien Shrimp Records, after earning a degree in contemporary writing and production from Boston's Berklee College of Music, in the hopes of cultivating a haven where emerging artists – herself included – can truly express themselves creatively.
Education is a core pillar of JetBlue For Good, the airline's platform for social impact. JetBlue's core programs and partnerships directly impact the areas where its customers and crewmembers live and work. JetBlue is committed to giving back in meaningful ways in the communities it serves.
South Florida is an important part of JetBlue's network strategy. The airline's inaugural flight, Flight #1, took off from New York's JFK Airport and landed at Fort Lauderdale – Hollywood International Airport. JetBlue is already a top employer in South Florida, with more than 1,800 crewmembers.