The Top Marching Band Songs & Why
Marching Band Music
Matters
The marching band is an integral part of American culture. These instrumental musicians provide entertainment and music through brass, woodwind, and percussion instruments.
Their formations on the football field can spell out letters, logos, and animated pictures to create a moving image. Anyone who's ever been to a U.S. high school or college has heard marching band music. But what is the history of marching band, where do marching band songs come from, and why does marching band music matter?
The History of Marching Bands
It should come as no surprise that marching bands have military origins. Marching songs were used to direct troops on long journeys, maintain morale, and even direct troops on the battlefield.
Military traditions continue to form part of the modern marching band. Many of the uniforms have echoes of the military, marching bands may have ranks, and even many popular high school marching band songs date back centuries.
Once marching bands became outdated in a military setting, these bands were seen in sports and popular entertainment venues. John Philip Sousa, head of the U.S. Marine Band, is considered the archetype of the modern marching band. He took the U.S. Marine Band across the country, playing traditional marching band songs to audiences during an annual fall tour.
Modern audiences will know marching band music from the halftime shows of American football games. This tradition dates to the University of Illinois Marching Illini in 1907. This band is the first recorded instance of marching songs played at a football game.
While classic marching band songs may be universal, different cultures across the nation have formed unique marching band music traditions that are staples on their home fields and even incorporated into the music you hear today.
There are several types of marching bands, each with its own flavor and special techniques, specializing in different kinds of music.
Let's dive into the four different types of marching bands you might come across.
The military band is arguably the most traditional version of the marching band because these bands bring in aspects of the military, such as straight ranks, sharp military uniforms, and marching style. 
Plus, their musical repertoires will typically play patriotic or nationalistic tunes. These bands may even incorporate historical instruments to emanate the Revolutionary War.
The art of the military band has lost its popularity in recent times. Today, the Texas A&M Fightin' Texas Aggie Band is the country's biggest and most well-known military marching band.
The Drum and Bugle Corps aim to imitate the artistic creativity of a concert band while moving. These productions will typically involve a setlist revolving around a particular theme.
These bands are well-known for their unique, rich sounds, as they only contain brass, percussion, and color guard sections. The repertoires of these bands vary wildly, with some bands specializing in classical, jazz, or even scores from popular movies.
Drum and Bugle Corps often aim to represent their cultural and traditional origins. For example, bands from some southern states may focus on jazz. Those from major cities on the Eastern Seaboard may look to play classical music from across the world.
The College Marching Band
Anyone who has ever attended a college sporting event will have encountered this type of marching band. They usually perform at football game halftime shows, but they may also play pep band songs at school rallies to promote student spirit.
These marching bands focus less on the music alone and more on crowd entertainment. These bands are the most likely to form school logos and animated images as part of their shows.
College marching bands are at the center of campus culture and a vital component of all football halftime performances at Historically Black Colleges and Universities. HBCU bands blend traditional marching band styles with black art forms, including R&B, gospel, hip-hop, and jazz, along with horn-swinging, high-stepping showmanship. The drumline serves as the heartbeat of the marching band, always giving students and outside fans a show they'll never forget. 
Scripted storytelling is a massive part of what makes this type of marching band distinct.
Outside of these three categories, the Party Band aims to embrace the spirit of entertainment and togetherness. For example, the Detroit Party Marching Band does away with many of the formalities of the traditional marching band and encourages people to groove and dance to the music.
Less emphasis is placed on precision and more on creating a fun atmosphere. These marching bands can be found on city streets and are often responsible for impromptu flash parties.
What marks these bands out is the spirit of community and togetherness they aim to bring to wherever they play.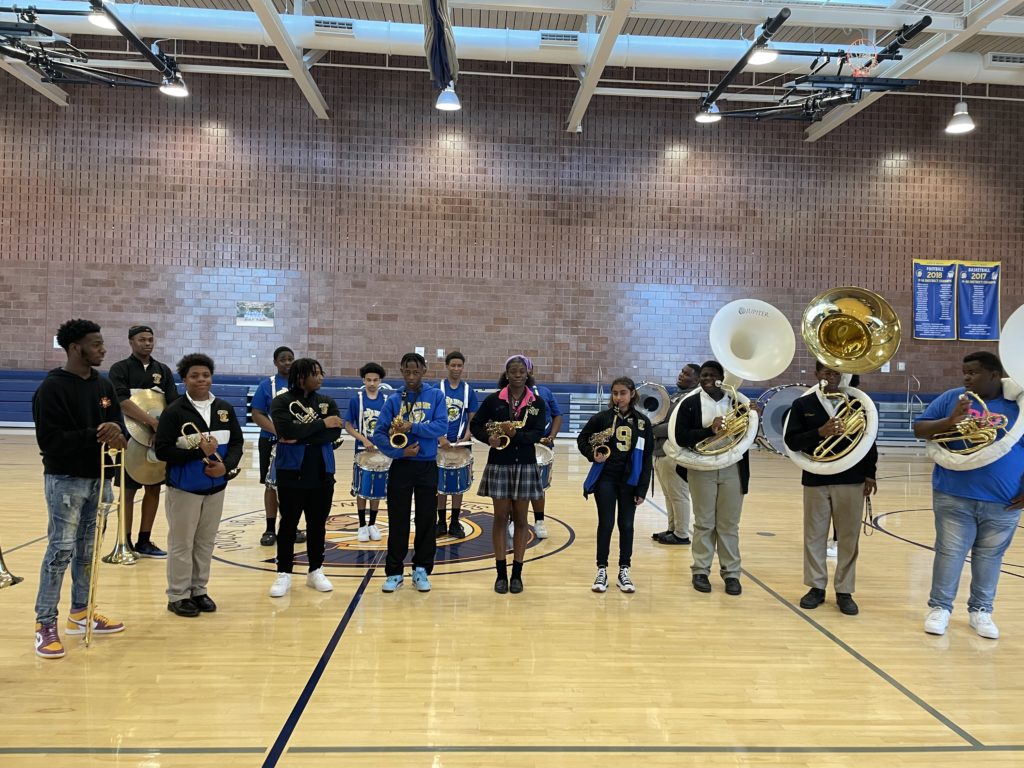 10
Best Marching Band Songs
From famous marching band songs to modern hits, marching band music isn't a rigid setlist of tracks. Marching bands across the nation aim to break new ground and deliver a sense of entertainment and inclusivity.
Let's run through some of the best music for marching band troupes.
1. Carly Rae Jepsen "Call Me Maybe" – The University of California marching band performed the infectious song at halftime, and the production saw the entire crowd singing along with the band. If you recognize this song, then you already know why the audience couldn't get enough of it. The beat is addictive.
2. No Doubt "Spiderwebs" – Iowa State's marching band altered this rock hit to nod to the brass beginnings of the band through a wall of trumpets.
3. Kanye West "All of the Lights" – They say "go big or go home," and the Temple University marching band treated this performance like it was "do or die." They fittingly blew Kanye West's song from his fifth studio album "My Beautiful Dark Twisted Fantasy" into the most grandiose version.
4. Skrillex "Medley" – EDM is known for its range of percussive electronic music genres, commonly featured in clubs and festivals. The marching band brought EDM into their world with this iconic Michigan State remix, known for one of the world's biggest beat drops.
5. Macklemore & Ryan Lewis "Thrift Shop" – Bringing an "anything goes" atmosphere to the song, the University of Idaho marching band altered the notorious twisting sax into an ancient Roman battle cry.
6. Robin Thicke "Blurred Lines" – Jackson State's marching band captured the repetitive salsa and meringue tunes in the Robin Thicke and Pharrell Williams classic production. They infected an entire stadium with a massive drumline, and fans couldn't get enough.
7. Psy "Gangnam Style" – At Ohio University, the marching band brought the ridiculousness of the viral, modern dance to the field with this wild performance. It's a half-time show you have to see to believe! 
8. Daft Punk "Medley" – The Western Washington University Viking Band brought the showmanship and robotic sounds with this Daft Punk tribute, complete with raver glow sticks. It doesn't get more high energy than this! 
9. CeeLo "Forget You" – The Southern University band had fun with CeeLo's creative revenge song, and the audience could feel that joy in their performance. This song stands out for many reasons, including its playful pop hook and various stylistic elements. Fans weren't expecting a marching band to perform a revenge song, which only added to its shock value. 
10. Beyonce "Medley" – The University of Michigan took their performance of Beyonce's classics to the next level by featuring the Queen B herself during the performance, a move nobody saw coming! It was the beginning of the celebrity-endorsed marching band era.
Marching bands are an American cultural staple. Like the rest of the country, marching bands have successfully transformed with the times. They represent the power of music and how different cultures and traditions beautifully impact it.
Save the Music is dedicated to promoting the value of musical education across the country and provide grants for music education. Help promote music education by donating to Save The Music now.