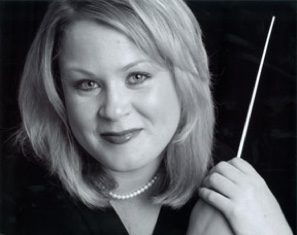 Associate Professor of Music Education, University of Michigan
Kate Fitzpatrick is associate professor of music education at the University of Michigan. In addition to holding BME and MA degrees from Ohio State University, Fitzpatrick holds a PhD in music education from Northwestern University, where her mixed methods dissertation focused on the experiences of inner-city instrumental music teachers in the Chicago Public Schools. Before coming to U-M in the fall of 2008, Fitzpatrick served as assistant professor of music education and assistant director of bands at the University of Louisville.
At U-M, Fitzpatrick teaches a variety of courses in the undergraduate teacher education program as well as graduate courses in curriculum and advanced quantitative, qualitative, and mixed methods research. She also serves as coordinator of the University of Michigan Summer MM Program in music education, a 3-summer masters program geared towards practicing music teachers. Fitzpatrick is an active and prolific researcher, specializing in urban music education and mixed methods research. Her research has been published in the Journal of Research in Music Education, Research Studies in Music Education, the Bulletin of the Council for Research in Music Education, Contributions to Music Education, the Music Educators Journal, and the Journal of Mixed Methods Research, in addition to numerous book chapters. Her book, Urban Music Education: A Practical Guide for Teachers, was published in 2015 by Oxford University Press. Fitzpatrick has presented at numerous state, national, and international conferences, and currently serves on the editorial board of the Journal of Research in Music Education. She is the past national elected chair of the Social Sciences Special Research Interest Group for the National Association of Music Education, and also serves as a frequent clinician and guest conductor with bands across the United States. Fitzpatrick was recently appointed as a faculty expert affiliate to Poverty Solutions at the University of Michigan, which focuses on fostering research related to the prevention and alleviation of poverty.
An avid supporter of public school music programs, Fitzpatrick is the former director of instrumental music at Northland High School in Columbus, Ohio, where she directed the Columbus Public School district's largest band and orchestra program. Fitzpatrick is the recipient of the 2003 God and Country Award, presented by the Salvation Army and the Brass Band of Columbus for her "outstanding, sensitive leadership of young people.
Our Music Education Advisory Board consists of leaders from universities and colleges around the country who provide expertise on music education, program evaluation, teacher training, and research in music education and childhood development.