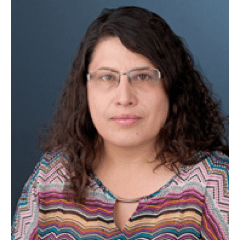 Assistant Professor of Music Therapy, Arizona State University
Eugenia Hernandez Ruiz is Assistant professor in Music Therapy in the School of Music, Dance and Theatre of Arizona State University. She earned her master's and PhD degrees in music education (emphasis in music therapy) from the University of Kansas. Her clinical expertise is in the area of Naturalistic Developmental Behavioral Interventions (NDBI) and music interventions for children, teenagers and adults with autism, and their families; as well as women and children survivors of domestic violence. She founded a music therapy agency in her home country (Mexico), where she provided clinical services and continuing education opportunities for professionals regarding music therapy, autism, and domestic violence. She has presented clinical and research posters and presentations in regional, national and international conferences. Her research has been published in the Journal of Music Therapy, Music Therapy Perspectives, Nordic Journal of Music Therapy, Psychology of Music, and Review Journal of Autism and Developmental Disorders. Her current research and clinical interests relate to parent coaching of music interventions for individuals with autism, music neuroscience, mindfulness and music interventions, and course-based undergraduate research experiences.
Dr. Hernandez Ruiz is a board member of the Kax Herberger Center for Youth and the Arts at Arizona State University. She is also member of the Herberger Institute of Design and the Arts (HIDA) Research Council, tasked with the review of faculty seed research grants. She has served on the Practice Analysis Committee of the Certification Board for Music Therapists (CBMT), to develop and evaluate a quinquennial national survey of music therapists. She currently serves on the Continuing Education Committee of this organization (CBMT), which reviews and approves continuing education programs across the country. She is currently on the Editorial Board of Music Therapy Perspectives, and is a frequent reviewer for the premier journals in her field: Journal of Autism and Developmental Disorders, Journal of Music Therapy, Psychology of Music, Nordic Journal of Music Therapy, Research in Autism Spectrum Disorder, Journal of Applied Developmental Psychology. She has participated in the review panel for the Music and Health grant of the National Center for Complementary and Integrative Health of the National Institutes of Health, and was invited to review the Cultural Diversity Award for the International Society of Autism Research. Dr. Hernandez Ruiz has also served in the review panel of the Community and Service-provider grants of Autism Speaks.
Our Music Education Advisory Board consists of leaders from universities and colleges around the country who provide expertise on music education, program evaluation, teacher training, and research in music education and childhood development.