BACKGROUND
Located within the boundaries of the Spokane Indian Reservation in Washington state, Wellpinit is a small rural town of approximately 2,100 people. The overall unemployment rate is 25.84% and the poverty rate is 32.7%, both more than double the national average. The community is special—and that's why we're working to bring music back to their classrooms.
The schools here have tremendous need. All three receive Title 1 assistance, with 80-90% of students qualifying for free and reduced lunch. In the early 1980s, funding for music education was cut. Since then, schools have getting by with a limited number of instruments, many of which are unplayable. With few options to raise funds, in 2017, the Wellpinit music teacher contacted Save The Music for help. Mr. Shawn Brehm wrote:
I believe in the power of music. Without it, I do not know what my life would have amounted to. It was my vehicle to college. It was my safe harbor and the one place in my school where I felt safe.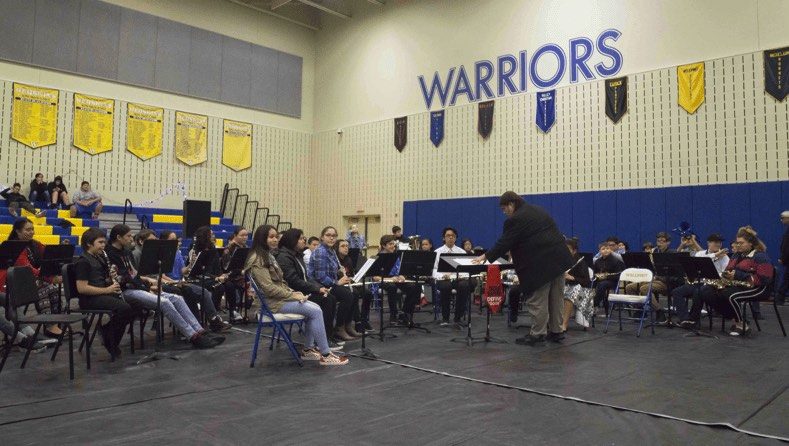 PARAMOUNT PARTNERSHIP
Save The Music partnered with our Viacom family at Paramount Networks to launch a new Stories Matter initiative, providing schools with a video production lab and a Stories Matter Summer Camp to equip students with the skills and platform to tell their own stories. Paramount piloted their Storytelling Lab at Wellpinit Middle/High School this past summer.
At the time of the summer camp, Save The Music was delivering the first Core Band Grant to Wellpinit Middle School. We traveled there to capture students unboxing their new instruments and playing them for the first time. A Paramount video crew filmed all of the excitement and interviewed the students and music teacher. We're thrilled to share the finished product below!
From WSSDA Direct Quarterly Newsletter Fall 2019: An ancient Chinese proverb states, "a journey of a thousand miles begins with one step." Wellpinit to Hollywood is about 1200 miles, but that journey began with one phone call. About two years ago, the music program in the Wellpinit School District had little equipment and even less space for teaching and learning. Then, in March of 2017, K-12 Music Teacher Shawn Brehm called the Save The Music Foundation. Brehm explained to the foundation that when he took over the music program the previous year, there were only 12 playable instruments and there hadn't been a choir class or instrumental music program in a very long time. Through conversations with Save The Music, the Wellpinit School District wasable to secure two grants: approximately $35,000 in the 2018-19 school year to kickstart the middle school and high school
program, and approximately $35,000 in the 2019-20 school year to kickstart the elementary program. Brehm and colleagues did not stop there. In addition to Save The Music, Wellpinit also secured grants from the Hagan Foundation and Washington state's Music Matters program co-administered by the Washington Association of Music Educators and Music Aid Northwest. All together, grant funds totaled more than $129,000. The Hagan Foundation, located near Spokane, WA, donated $50,000 over two years starting in 2017. The Music Matters grant, funded by the sale of special license plates, provided $4,250. Music Matters was signed into law by then-Governor Christine Gregoire in 2011. "The impact of all these grant funds is just phenomenal," said Brehm. "My main takeaway from this experience is that you never know what can be accomplished if you don't try. If we can provide our students the opportunities they deserve by making a phone call, then try!"
And that's only part one of this adventure. "I got an email out of the blue," said Terry Patton, technology director for Wellpinit School District. "They asked me something like 'Would you like to have a new storytelling lab with resources for video production? And would you like to participate in a Paramount Network documentary about Wellpinit students learning film production, host a Native American movie star and have your students' work premier at the TCL Chinese Theater in Hollywood?' I kind of felt like we had won the lottery. One thing led to another, and then the Paramount Network set out to make a documentary about Wellpinit students making documentaries. The attention, alone, was surprising, but the connection with the network yielded significant material and social impact. Wellpint School District received valuable new equipment, (computers; lights; green screens; cameras; sound recording equipment; video editing software), purchased by Paramount Network, and students received instruction from a professional filmmaker through another foundation called Barcid. As stated on their website, The Barcid Foundation is a nonprofit media arts organization founded to foster understanding of the culture, traditions and issues of contemporary Native Americans. Established in 2004, the foundation offers educational opportunities to Native American communities through multimedia programs.