New Britain Elementary School Rebuild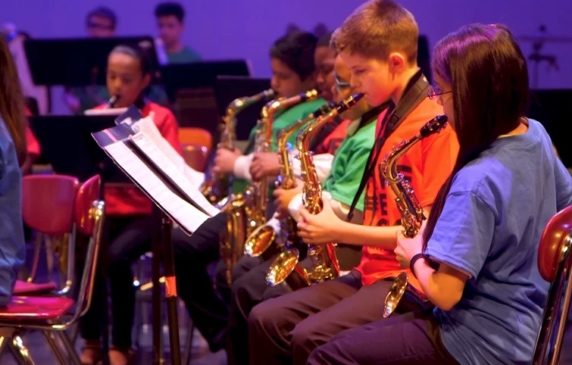 Celebration Concert
On April 19th, 2018, we celebrated the completion of our district-wide rebuild of elementary band programs in the Consolidated School District of New Britain in Connecticut.
From 2015 – 2018, Save The Music restored full instrumental music programs in nine elementary schools across the district with support from The American Savings Foundation and LEGO Community Fund U.S. In celebration, the community held a district-wide band, string and choral concert showcasing elementary, middle and high school student performances. Check out the video below to watch a recap of the New Britain Rebuild Celebration Concert!
Chamberlain Elementary in New Britain
Back in June of 2017, we visited one of our Save The Music schools in New Britain as part of our ongoing program support. We had the opportunity to speak with the students and faculty to talk about their music program. We asked students what they want to be when they grow up. They talked about how excited they were to go to band class and play their instrument. One student in particular named Alondra shared that prior to being in band, she was very shy. But learning an instrument and performing with a group ensemble allowed her to open up and be more confident. The music teacher spoke about what it was like before they had instruments. The principal discussed the impact the grant made on the school. Check it out!
Student from HALS Academy wins Essay Contest: Why Music is Important
For our 20th Anniversary celebration of Save The Music, we held a student essay contest asking, "Why Is Music Education In School Important?" Winner, Genesis Brown from HALS Academy in New Britain received a congratulation video from Jordan Fisher as one of many prizes. Watch the video of him reading some of her essay below! Here's an excerpt: "I have always known music. It has been with me my entire life, even when my dad would softly sing into my mom's belly, into my heart. I hear it in my mother's laugh, and my father's voice. I even hear it in my baby sister's patterned heartbeat, a timed signature of 4/4, or 120 beats per minute. But most importantly, music is heard in all of us. Music – it's surprising how it's taken for granted. How we can just listen to it, but not really feel its burning passion, its love, its beauty. It has lived for generations, shifting, molding, and being inspired by cultures and tradition. Music is a lively summer, never ending in its sound. But, it can be the cool winter, soft and melodic. It can be as down pouring as a rainy day, making you feel it's emotions with every second of hearkening it. For some students, music can be a second heartbeat, their entire world. But for others, it can mean nothing – not even a passing thought. But shouldn't we reinforce the importance of music in our schools?" Read the full essay here.
The grand prize was a school performance by Jordan Fisher and donation of a Keys+Kids Piano Grant for the HALS Academy music program. Check out some clips we captured for that day:
HALS Academy wins Les Paul Contest
Save The Music Foundation partnered up with The Les Paul Foundation for a second year to create a unique contest using curriculum based off the book, Les Paul: Guitar Wizard by Bob Jacobson. Participating students created their own instruments inspired by Les Paul. Finalists submitted videos to demonstrate how their instruments worked. Check out the winning video from HALS Academy:
The Consolidated School District of New Britain Overview:
The city of New Britain is located 12 miles south of Hartford, CT. The school district reports more than 79% of students qualifying for free and reduced lunch. School district leadership is providing great support to ensure that music and arts are available to all students from K-12th grade. Save The Music Foundation closed the music education gap in nine elementary schools in the district. We provided 2 Core Grants to elementary schools in 2015, along with 3 Core Grants and 2 Keys + Kids Piano Grant in 2016. We then provided our final 4 Core Grants in 2017. This elementary school rebuild was made possible with generous support from the American Savings Foundation and the LEGO Community Fund U.S.
Save The Music Core Grantee schools by grant year include:
Grant Year 2015
Chamberlain Elementary School
Vance Elementary School
Grant Year 2016
Holmes Elementary School
Smith Elementary School
Jefferson Elementary School
Lincoln Elementary School (Piano)
HALS Academy (Piano)
Grant Year 2017
DiLoreto Elementary & Middle School
Northend Elementary School
Gaffney Elementary School
Lincoln Elementary School