A product of Newark Public Schools music education, Wyclef Jean was the perfect guest to help us celebrate our music technology pilot program at Barringer High School in Newark, NJ.
Attendees included superintendent, Roger León, who emphasized the importance of music education. Save The Music has committed to a five-year rebuild in Newark, which will ensure every student in the school district has access to music education by 2021.
Wyclef participated in a Q&A during which he encouraged the aspiring musicians in the room to showcase their talents in front of everyone. Students volunteered and impressed the audience!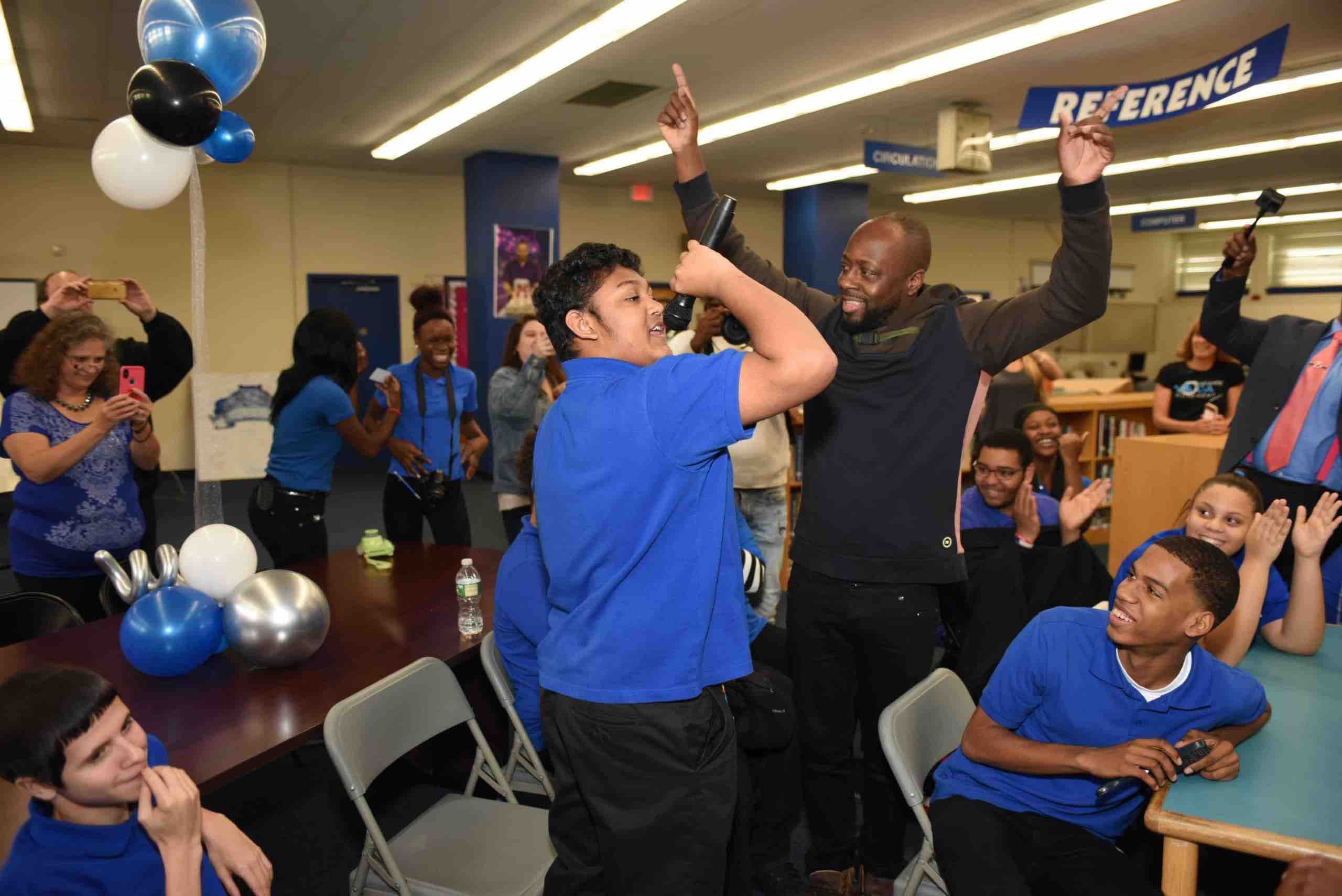 Wyclef then sang and played the electric guitar. He performed a medley of his greatest hits including "Maria, Maria," "Sweetest Girl," and "Hips Don't Lie." He also did a lot of freestyling, which included some verses in different languages such English, Spanish, French, and Creole!
To conclude the event, Wyclef led a masterclass helping students craft a beat and record a freestyle rap over it. His closing advice was for them was to stay focused on their journeys and believe in themselves.
Thank you to Wyclef for inspiring the next generation of music revolutionaries and Amazon Music for their leadership and sponsorship support!
About Wyclej Jean: The music that Wyclef Jean has written, performed, and produced — both as a solo superstar and as founder and guiding member of the Fugees — has been a consistently powerful, pop cultural force for over two decades. In 1996, the Fugees released their monumental album The Score, which inspired notoriously prickly rock critic Robert Christgau to write: "so beautiful and funny, its courage could make you weep." The album, created in Wyclef's studio in his uncle's basement in New Jersey, hit No. 1 on the Billboard chart, spawned a trio of smash singles (including their indelible reinvention of Roberta Flack's 1973 ballad "Killing Me Softly"), and is now certified six times platinum. But Wyclef, a child prodigy with a wealth of musical influences from jazz to classic rock to reggae, resisted the pressure to duplicate the sound and style of that masterwork. Instead, he launched himself as a producer and solo artist whose work drew from an innovative and eclectic palette that included elements of pop, country, folk, disco, Latin, and electronic music. 
"I just keep moving," he says today. "If I didn't keep moving after The Score, y'all wouldn't have had the biggest pop song of all time." Wyclef is referring to Shakira's chart-topping single "Hips Don't Lie," which he co-wrote and is featured on. That 2006 blockbuster climbed to No. 1 in 20 countries including the U.S. — a crowning achievement atop a nearly unprecedented run of hits that include Wyclef's own "Gone Till November," "Ghetto Superstar" (Pras feat. Wyclef Jean), Carlos Santana's No. 1 single "Maria, Maria" (featuring Jean and Product G&B) and the late Whitney Houston's "My Love is Your Love." "The only record that captures Whitney, her daughter [Bobbi Kristina], and Bobby Brown all on one song," Wyclef says of it.
Wyclef has been rewarded for his creativity and adventurousness with three Grammy Awards, a spot on the cover of Rolling Stone's special "Top 50 Hip Hop Players," and the opportunity to make music with such legends as Michael Jackson, Queen, Mick Jagger, Paul Simon, Earth, Wind & Fire, Kenny Rogers, and Tom Jones. As a solo artist, he has released six albums that have sold nearly nine million copies worldwide, including his 1997 debut The Carnival and 2000's aptly titled The Ecleftic: 2 Sides II a Book, which even turned wrestling superstar/action hero The Rock into a pop star with the international hit single "It Doesn't Matter." Through it all, Wyclef kept an ear cocked for new talent. He helped launch Beyoncé´s career with Destiny's Child's early hit "No, No, No."
While it's been six years since his last studio album, Wyclef has not abandoned his dedication to sonic excursions. His new album, the upcoming Carnival III: Road to Clefication, features contributions from Afrojack, Emeli Sandé, and multi-platinum DJ/recording artist Avicii. In fact Avicii is responsible for Wyclef's new album's title. "It's a nickname he gave to me," he explains. "We were in Stockholm recording and he said, 'We need some 'Clefication.' Now when I'm in the studio with other producers from his generation, they'll say, 'Yo we need some 'Clefication' on the vocal before I swag it up.' It's the human application of music."