We partnered with SongFarm.org to put on our inaugural Hometown To Hometown in Nashville. The event celebrated Ross Copperman and Nicolle Galyon—GRAMMY-nominated songwriters and producers with a combined total of over 20 number one radio hits—as the 2020 Champions of The Year. "Ross and Nicolle are genuine champions for music education who have been giving back to their hometown music programs for years," shared Henry Donahue, executive director, Save The Music. 
The benefit raised over $200,000 and went towards our goal of building music technology programs in underserved high schools in Nashville as well as the honorees' hometowns in Virginia and Kansas. "During my involvement in music and the arts in my hometown, I definitely recognized a need for space for making music that doesn't always fit into notes on a page," said Galyon. "To give a young person the chance to walk up to a microphone and turn their feelings into a creative outlet can be educational, but also transformative for their development as a human. Music isn't just about playing or singing, it's about creating, and this creates a unique space for anyone to do that."
Added Copperman, "SongFarm is without a doubt one of the most important projects of my entire career. I could not be more excited to partner with Save The Music for Hometown to Hometown, and to work together to bring creative tools and opportunities to schools across the country."
The night kicked off with emcee, Leslie Fram, the Senior Vice President of Music Strategy for CMT. She introduced STM Executive Director, Henry Donahue, and SongFarm.org co-founder, F. Reid Shippen, who spoke about how the partnership came together. 
As Henry mentioned in our Billboard article, "Starting with our first meeting with Ross and Songfarm.org in Nashville, it was a no-brainer to join forces to bring the power of the songwriting and music production labs to more students and schools."
Then began the performance portion. Ross and Nicolle started off the songwriters' round then brought Blessing Offor to the stage.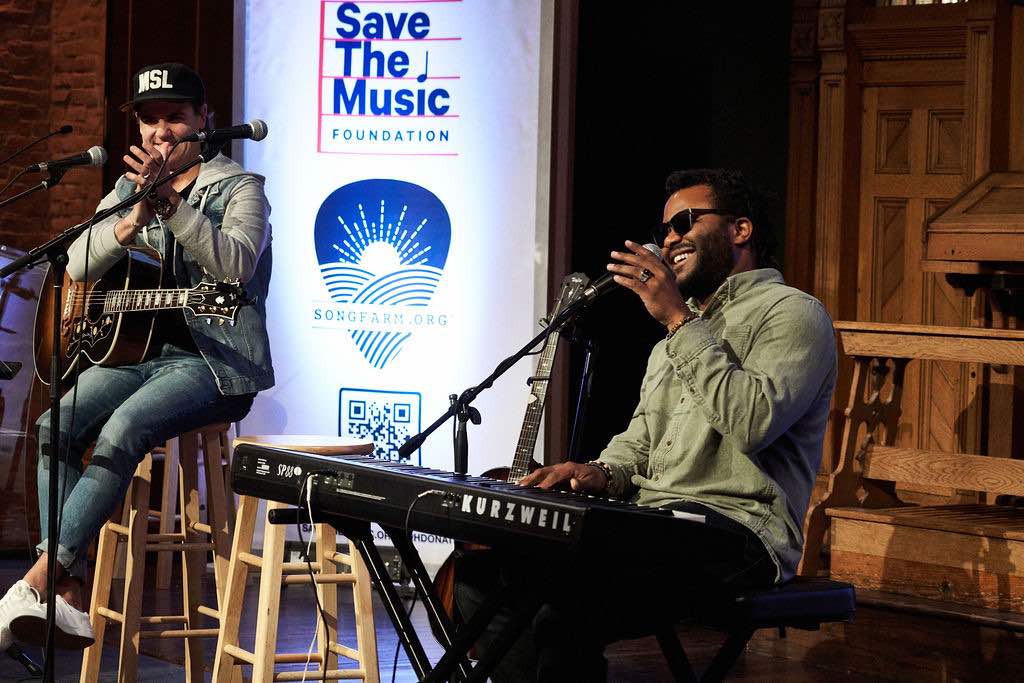 Along with his soulful rendition of his songs, he also talked about how growing up, he would often tap his pencil to different beats in the classroom and it was his music teacher that saw this as an interest in music versus a behavioral problem. 
Emily Weisband was the next guest. She spoke candidly about how often times as an artist, it's easy to compare yourself to others and how this concept was the inspiration for a song which she performed a cappella. 
The final guest was Michael Ray who spoke from the heart about how music helped him cope with his parents' divorce and delivered an emotional performance.
Then Ross' former teacher, Steve Franco, and two of his current students, John Strausbaugh and Tyler Johnson, took the stage. The students talked about how much having the SongFarm.org recording studio at Glenvar High School has impacted them and even played a snippet of some of the beats they produced. Mr. Franco then spoke about how it was having Ross as a student and delivered a powerful speech about how as teachers, their job is to push students beyond their comfort zones in order to succeed. He was met with a standing ovation. 
Leslie Fram came back on stage, this time with singer-songwriter, Alana Springsteen. Alana spoke about how she enjoyed her experience visiting Save The Music grantee, Horace Mann Elementary, in Anaheim, CA. Then both her and Leslie asked everyone in the room to pull out their phones and take a photo of the QR code on the screen to make a donation. 
Now it was time for the awards ceremony. Ben Vaughn, CEO of Warner/Chappell Nashville, presented to Nicolle. He talked about how it was like seeing her receive the BMI Songwriter of the Year Award and how every year, she has a word or mantra that she lives by and this year, it was "Foundation." Nicolle accepted the award and gave a moving speech about how she grew up in an environment where she felt safe experimenting with her creativity and how important it is to create spaces for students to make music that might not fit into notes on a page. 
Then Josh Van Valkenburg, Senior Vice President of Sony/ATV Nashville, took the stage to present to Ross. He spoke about Ross' accomplishments as a songwriter and producer but how he felt compelled to give back and was most excited about being able to help students pursue their dreams. Ross accepted the award and graciously thanked everyone he worked with to bring this all to life. He reiterated how amazing it was for people to come together and raise so much money for the kids. 
Special thank you to all of our incredible event sponsors!