Celebrating 25 Years With
LL Cool J, Cindy Mabe, Becky G, Adam Blackstone And More!
On Wednesday, November 1, 2023, Save The Music celebrated its 25th Anniversary event, Music Saves L.A. at NeueHouse Hollywood. With 270+ attendees and over $300K raised to support LA music programming, this year's event was a huge success!
Hosted by actor, comedian, writer, and producer Chris Spencer, the night kicked off with a special performance by Save The Music J Dilla music technology grant recipient school, Centennial High School. Students, Jeremiah Hilliard (producer) and Jose Ibarra (artist) delivered moving speeches alongside their teacher, Candi Boggerty followed by a surprise free-style performance.
Centennial High School music technology students deliver speeches and performance
Next up we honored GRAMMY® Award-winning, Hip-Hop icon, actor, author and Founder and CEO of Rock The Bells, LL COOL J. Legendary rapper and DJ, MC Lyte, presented LL COOL J with his award highlighting LL's accolades and impact within the music community. LL COOL J delivered an inspiring speech, leaving the audience with words of wisdom to tackle their wildest dreams.
"Dreams don't have deadlines"- LL COOL J
LL COOL J accepts his award for his contributions to music and music education.
Next up, Save The Music honored esteemed executive, Chair and CEO of Universal Music Group Nashville, Cindy Mabe. Mabe's award presentation was delivered by country legend, Brad Paisley who credits Mabe to many of his successes as an artist. Cindy's award was followed by three exceptional performances by country acts: Louie The Singer, The War And Treaty, and Brad Paisley. Each artist spoke to the healing power of music and the role both music and Cindy Mabe has played throughout their lives.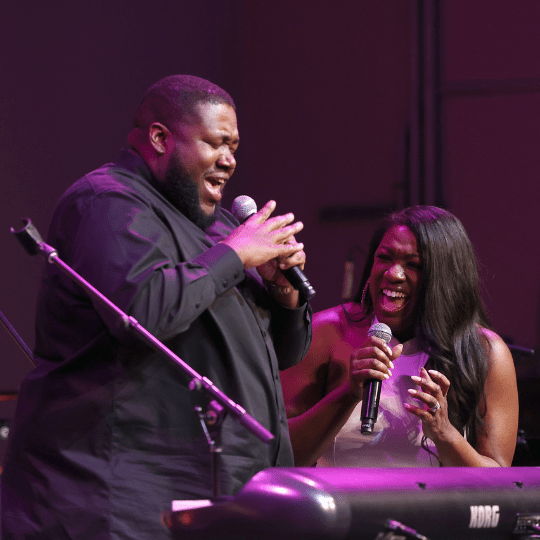 The War And Treaty deliver a powerful testimonial around the healing impact of music followed by a soulful performance- earning a standing ovation.
Left to right: Louie TheSinger, Micheal Trotter Jr. of  The War And Treaty, Cindy Mabe, Brad Paisley, and Tanya Trotter of The War And Treaty
Following three exceptional performances, Save The Music mariachi grant recipient school, Griffith STEAM Magnet Middle School took the stage to deliver a magnificent set of mariachi performances alongside their music teacher, Mr. Andres Villanueva.
Griffith STEAM Magnet Middle School and music teacher,
Mr. Andres Villanueva
A tough act to follow, legendary music producer Jimmy Jam took the stage to present Emmy and GRAMMY® award-winning – artist, producer, and musical director Adam Blackstone with his award. 
Blackstone accepted his award by passing the mic to multi-talented musical acts Brittney Spencer and Mary Mary. Both soulful performances brought the room to their feet while playing alongside Adam Blackstone and his band.
Adam Blackstone accepts his award for his contributions to music and music education.
To wrap up the evening, Save The Music honored global superstar, activist, and entrepreneur Becky G. Big Boy gave a heartfelt award presentation to Becky G, singing her praises for her work as both an artist and humanitarian. Throughout Becky G's inspiring award acceptance speech, the superstar reminisced on her time as a music student in Inglewood, CA  and encouraged audiences to recognize the incredible talent prevalent in the LA and surrounding  communities.
Global superstar, Becky G accepts her #MusicSaves LA  award
A huge thank you and congratulations goes out to all of the 2023 Save The Music honorees for their contributions to advancing equity within the music industry and championing music education for students across the country. 
All funds raised from this year's Music Saves L.A. event will support a multi-year, $3M+ music education rebuild in Los Angeles where Save The Music plans to fund 50 additional schools with new music programs.