12 Years of Work to Implement Music Education Statewide
When I was asked to share my thoughts on the experience I've had working in West Virginia, I couldn't help but find it remarkable as I began to unpack the journey we have been on, the lives we've touched, and the countless lessons that have been learned along the way.
I inherited Save The Music Foundation's (STM) work in West Virginia in 2013 and visited the state for the first time in October 2014. The very first school I went to was in Crum, a small town bordering Kentucky where the town population is under 200.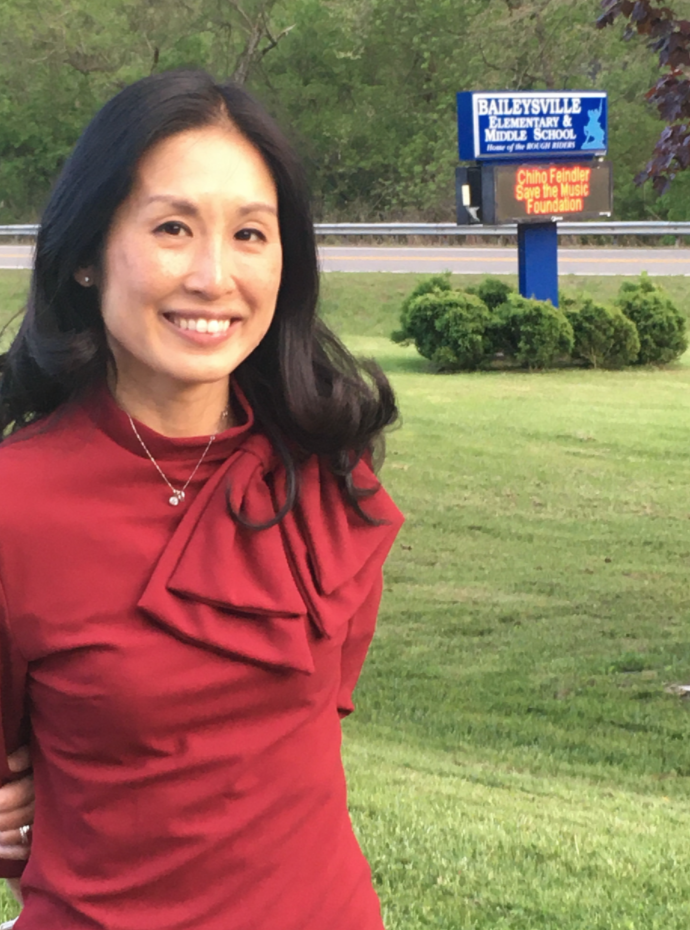 Since our first meeting in Crum seven years ago, Curator Randall Reid-Smith has introduced me to schools across 5,000+ miles in 36 counties. He's also welcomed me in on numerous colorful conversations about everything from his opera career in Germany to the latest fashion designer at international pageants. Randall has been a key figure in the work that my teammates and I at STM are committed to, which is supporting music teachers and youth, and working with them to provide more access to musical equipment.
Save The Music has been making grants to provide band, string, and music technology instruments and equipment since 1997. In the late 2000s, we began to focus on targeted communities across the country, ranging from big cities like New York City, Miami, and Los Angeles, to rural communities that are equally in need like those in West Virginia. After meeting with Randall and others throughout the state of West Virginia, we decided to focus our attention on supporting the work happening across the entire state. As referenced in our case study: "From the 1970s, school music programs all over West Virginia had slowly been deteriorating. Though initial research pointed to a clear statewide commitment to music education, many schools were equipped with dated and damaged instruments – or none at all."
12 years after Save The Music initially began building connections in the state, we are now in 112 middle schools in all 55 counties – it is the only state that we work in statewide. I have been honored to work directly with leaders from the community like Randall. The scale of the work would not have been possible if I had not gotten the chance to collaborate with Governors Earl Ray Tomblin and Jim Justice, as well as First Ladies Joanne Jaeger Tomblin and Cathy Justice. 
Music education access translates into cultural education access, and that cross-cultural work is especially important today more than ever. Implementing this crucial tool into the state of West Virginia was a smooth ride, and that's because of the people I came across. No matter which school I visited, every single person in the building – including district and school leaders, teachers, staff members, and parents and grandparents – has welcomed me with warmth and enthusiasm. I have been treated with homemade pepperoni rolls, apple butter, and fried bread as well as numerous sheet cakes (to the point that I politely told the school and district leaders to spend the money on extra equipment instead). Even though I am originally from Japan, attended undergraduate school in the midwest and am now a longtime resident of metro NYC, residents in West Virginia have made me feel at home no matter which corner of the state I am in. I believe it is because so many of us share the same passion – we are committed to giving the best to the next generation by promoting access to music education. The hospitality and openness I received working in West Virginia has translated into the success of the project as we've delivered the biggest influx of music making access in the state's history.
Receiving the Honorary West Virginian Award from Governor Jim Justice was a complete surprise. I was so honored to be a recipient of this award, especially when I found out that it is one that the governor rarely gives out. But it is much more than that. For me, this is a great testimony of how Save The Music has been deeply embraced by the communities we serve. We aim not to be a "savior" from New York City in the work we do. Instead, we strive to work as a collaborative partner within communities to advance music education across the nation. Our mission is to help young people, schools, and the communities that they reside within reach their full potential through the power of making music. This award validates that our work is as meaningful to youth in the state of West Virginia, as it is for us.