My favorite teacher in middle school was Ms. Bray. She was my choir director from 5th to 8th grade and made those awkward years feel successful and content. Ms. Bray shared with me and my classmates her passion for music in every class. She also deeply cared about her students and made sure we were confident, happy, and used our full potential, not only as musicians but as well-rounded young people. I was very lucky to have some amazing, influential music teachers growing up and each one had a hand at what I did next. 
I studied music education in college and became a music teacher and choral director just like Ms. Bray. It was an honor to work with the students who came through my classroom doors each and every day. Now, I have the privilege to work with music educators and advocates across the country in building resources for the field and sharing the tools and strategies needed in today's music classroom.
A special part of what Save The Music Foundation provides to its grant recipients is long-term support for the school's music program, including professional development opportunities for its educators. Starting on March 13, 2020, support became one of the most important aspects of how Save The Music worked with schools and teachers.
Almost immediately our team invited Save The Music grant recipients to join virtual meeting groups at least once a week. It was the first time we had gathered music teachers and arts administrators online, coast to coast. We started simply, "What do you need?" The answers varied, but mostly, they wanted to ask each other for advice and work through their challenges in teaching music from their homes. 
Our team gathered these groups to listen to each other in peer-to-peer learning sessions and invited them to hear from experts in music education and advocacy. We even brought high school students together to engage in exploring music industry career pathways (anything that would get them online for a new, exciting experience). Our goal was to support those teaching and learning from home, when everything was different and no one knew how the school year was going to proceed. 
Meanwhile, our online music education resources page exploded. It was my mission to find the companies that were making high-quality and relevant content accessible and free for teachers, families, and students to use while school was virtual. Save The Music partners and other companies and nonprofits stepped up to give those in school free music lesson content, free subscriptions to online music making software, free advice and webinars for how to teach and learn in a digital space.
Our little resources page went from a list of about 20 organizations to over 100. We posted links to online learning resources on social media and soon, the resources page was the most popular page on our website. The resources page is not a page anymore, but nearly 20 pages of 200+ resources of content any person can explore to enhance their music learning or classroom. My goal: create a platform where we can share the best tools for anyone who wants to enhance their music teaching and learning.
"My colleagues are so impressed with Save The Music's teacher resources page; it's truly the gold standard right now in the music ed world!" – STM Grant Recipient
Moving into the 2020-2021 school year, we continued to gather our grant recipients online and created virtual music educator masterclasses for the public. Many of us would like to visit each other and ditch the virtual meetings, however, connecting teachers from a variety of districts and backgrounds created an invaluable, empowering community. It gave us the opportunity to reach more people and hear from those we would not have otherwise met. 
Our team has partnered with dozens of educators, advisory board members, and experts in the field to ensure that resources and learning opportunities are made available. A few of the people we've worked with and collaborated with are pictured below. Thank you to all those who have contributed and made Save The Music's programming possible!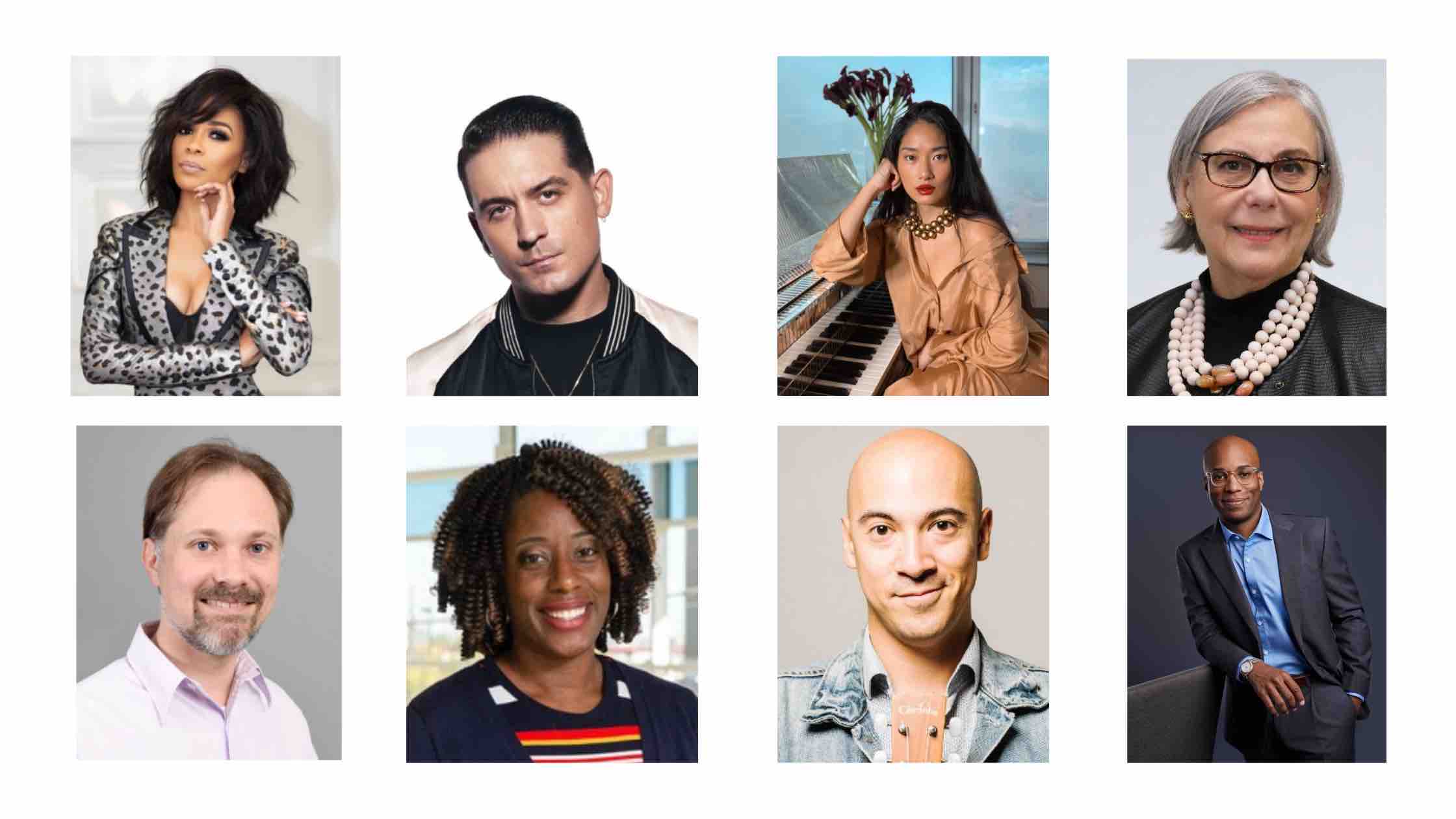 L to R: Michelle Williams, GRAMMY Award-Winning singer and entrepreneur; G-Eazy, Hip-Hop Artist and Producer; Chloe Flower, Pianist/Composer; Mary Luehrsen, NAMM Foundation; Dr. Evan Tobias, Arizona State University; Dr. Suzanne Hall, Temple University; Jonathan Seligman, Music Educator; Jonathan Azu, Founder & Managing Partner of Culture Collective
"I think that Save the Music Foundation has offered a variety of different sessions that have been helpful to me! I am thankful for all that they do to create learning opportunities for teachers."
"The Save The Music team is fantastic and sets themselves apart from all other organizations in their efforts to focus on teachers and administrators."
"The Save The Music masterclass sessions have all been terrific this year. Not only have they been informative and engaging, but it is just nice to be a part of this professional community even in this year when so much of life has been spent apart."
Save The Music will continue to offer professional development sessions to the public that are timely and relevant for today's schools and music classrooms. All students and teachers will need emotional support as they return to school, and this is why Save The Music, in partnership with The Center for Arts Education and Social Emotional Learning, is offering a series of free, professional learning webinars called Student Empowerment Through SEL in Music Education in 2021-2022.
The webinar series will help educators better understand how to elevate the lived experiences, voices, and cultural backgrounds of their students through the development of proven music education practices and approaches, designed to activate the social emotional learning competencies of self-awareness, self-management, social awareness, relationship skills, and responsible decision-making through the artistic processes of create, perform, respond, and connect. 
All webinars in the series are free but you must register to attend. Please visit www.savethemusic.org/sel for more information.
Finally, from my own time as a classroom music teacher, I recognize that quality resources, practical tools, and thoughtful support can boost an educator's confidence and ability to create meaningful learning experiences for their students. I'm excited to see how the initiatives this year will provide a helpful space for all teachers during this critical period.