NOLA Music Education Convening – 2018
Editors Note: The post below is a recap of our 2018 convening in New Orleans.
We will be hosting our 2nd convening in New Orleans May 11 – 12, 2022.
Along with Artist Corps New Orleans and Preservation Hall Foundation, we hosted a convening in New Orleans, LA. We brought together 150 attendees, including:
• 40 K-12 public school educators
• 20 local community music programs
• 20 foundations and national funders
• 17 presenters and panelists
• 12 district, school, and city leaders
• 9 cultural institutions
• 7 arts service organizations
• 4 universities
We came together to discuss the future of music education in New Orleans now that the schools are back under local control. Over the course of two days, we covered topics from assessing the current landscape of music education in New Orleans to building successful music programs. Check out highlights from the convening in the video below.
Music Education Site Visits
National foundations and programs were invited to see what's happening on the ground in New Orleans. They visited both school and community-based music programs.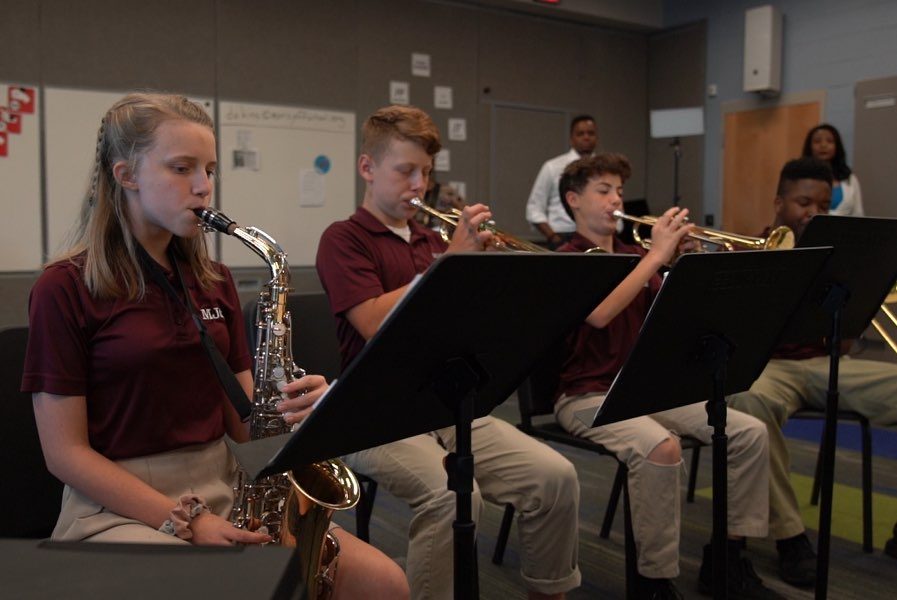 Students from Morris Jeff Community School directed by music teacher, Daniel Akins
Music Education Happy Hour
Foundations, programs, teachers, schools, and artists gathered informally around the common goal of strengthening music education in the New Orleans community.
Students from the New Orleans Center for the Creative Arts perform at the Jazz Museum
Morning Presentations and Breakfast Resource Fair
The National Association for Music Education (NAfME) and Save The Music Foundation presented strategies, funding opportunities, and resources for building a strong school music program. In addition, Artists Corps New Orleans presented preliminary data from the Mapping Music project, and the Orleans Parish School Board (OPSB) spoke about the district's reunification and music education programs. If you're interested in seeing the presentations, you can view them here.
The Orleans Parish School Board talked about the progress that they have made comparing March 2015 to March 2018. More students are graduating high school, eligible for state scholarships, and heading to college. New Orleans is outperforming similar districts nationally on the ACT. OPSB and NOPS will focus on three areas: early childhood education, educator talent, and strategically allocated resources. Historically, music has been a corner stone of New Orleans school culture with marching bands being a proud tradition. New Orleans has produced some of America's best musicians starting back with legends like Louis Armstrong and Jelly Roll Morton. That's why they are looking to further expand this great partnership with Save The Music.
Artist Corps shared their mapping music presentation. Artist Corps recognized need to identify exactly what was happening in music education in New Orleans public schools. Schools, community programs, funders and national programs need a way to match needs with resources. The data shared information about schools with full-time music teachers, when and where music classes are taking place, what types of music programs are in the different grade levels, if schools are partnering with outside programs, and what amount of instruments they have as well as the quality. They outlined the needs for current programs, a proposal, and next steps. 
NAfME presented the national landscape of accessing Title I and Title IV funding. They shared the process for which federal funds get to schools. They then provided an overview of Title I-A funding, talking specifically about opportunities for music education and similarly did so for Title IV-A funding. The Opportunity-to-Learn (OTL) standards or indicators describe "basic" or "quality" music education programs. They also shared an OTL checklist for suggested needs assessment steps and provided examples of local needs assessments. They concluded with learnings that there are a limited amount of funds, supplemental funding can't replace funding already available, and there are a large list of requests outside of music education. Their advice was to be polite, be accurate in your needs assessment, and be collaborative.
We also hosted a Breakfast Resource Fair where community music programs shared their their resources and built relationships with local school representatives.
Local music educators network at the Breakfast Resource Fair
Music Education Panel featuring Mr. Ellis Marsalis Jr.
Our panel of artists and educators discussed the state of music education in New Orleans, as well as their aspirations for the city's music programs post-convening.
Panel (from left to right): Jonathan Bloom, musician and educator; Calvin Johnson, musician and music education advocate; Ellis Marsalis Jr., musician and educator; Al Kennedy, University of New Orleans; Germaine Bazzle, musician and educator; and Dr. Daryl Dickerson, music educator
Luncheon and Strategic Investment Sessions
A Friday luncheon and afternoon sessions were held for a smaller audience of foundations and national organizations dedicated to developing a shared vision and commitment toward music education in New Orleans.
Groups brainstorm their goals for New Orleans Music Education at the Strategic Investment Session