There's nothing like music. It has the power to bring together communities, ignite movements, and amp up stadiums. When you need to express yourself or search for your feelings, so often it is music that is the answer.
In the last six months, we've seen the power of music get people through a very challenging time – from violinists playing from their balconies to school children playing porch concerts for their elderly neighbors to the music we listen to just to get us through the day.
Whenever we need it, music saves us. And now, it's our turn to keep the music playing. 
Right now we are facing an existential moment for music education. Amidst the COVID-19 pandemic, school budgets are being spread too thin, new safety guidelines are creating schedule restrictions for music classes, and many students still remain learning from home. 
For the first time in years, we literally need to save the music.
Today we kick off a new initiative – #MusicSaves – to celebrate the power music has to change lives.
Our mission is simple: keep music education top of mind so it does not fall behind in the 2020-2021 school year.
#MusicSaves is a call to the public to ensure music education is recognized for the powerful social, emotional, and cultural benefits it provides. In line with our more than 20-year history of helping students, schools, and communities reach their full potential through the power of making music, #MusicSaves will kick off with a viral TikTok campaign; new technology grants for schools across the country; a new online music education resources hub for teachers, students, and parents; a series of masterclasses for Save The Music grantee music teachers and students; and much more. The campaign also celebrates the more than 40 schools that will receive new Save The Music grants this school year.
A SNEAK PEEK AT WHAT WE'RE UP TO…​​​​
#MUSICSAVES TIKTOK CAMPAIGN
In collaboration with TikTok, we've kicked off our first campaign on the platform to speak to kids directly about the power of music. Check out #MusicSaves, which already has over 100 million views and the support of some top influencers! (and give @savethemusic a follow while you're there!)
NEW MUSIC EDUCATION RESOURCES
We've curated the ultimate library of online music education resources for teachers, students, and parents. Visit our new online music education resources page – check back often as we are constantly adding new stuff – including educational content created with Pharrell Williams' creative collective i am OTHER, Arizona State University, the AT&T Foundation (now also available in Spanish!), and recording artist Condola Rashad.
MUSIC TECH GRANTS
We have doubled down on our music technology grants to ensure kids have access to make music no matter if they are learning in person, virtually, or a hybrid of the two. Learn more about our music tech grants here. This fall, six schools across the country will receive new music tech grants, including in J Dilla's hometown of Detroit, where we will honor the icon by donating his namesake grant to his home city.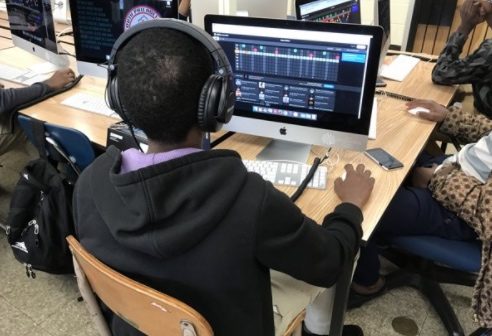 MUSIC EDUCATION MASTERCLASSES
With our Music Education Masterclasses, we are assembling our teachers and students through monthly virtual meet-ups to provide peer-to-peer support, as well as access to the best minds in the industry to help navigate through these unusual times. So far, we have had more than 20 masterclasses with over 500 attendees from across the country.
THE FIGHT TO MAINTAIN MUSIC EDUCATION IN SCHOOLS HAS NEVER BEEN MORE IMPORTANT.
WITH YOUR HELP, WE CAN COME TOGETHER AS STUDENTS, EDUCATORS, PARENTS, MUSICIANS, AND INDUSTRY LEADERS TO MAKE SURE THE MUSIC DOESN'T STOP.