Honorees, Trisha Yearwood, Mickey Guyton and Leslie Fram with their 2023 Champion of the Year awards.
Nashville's 4th Annual "Hometown to Hometown" Event Sparks
Powerful Conversation and Unforgettable Performances from an
Extraordinary Roster of Women in Country
On June 6th 2023, Save The Music and SongFarm.org brought the Nashville music community together for its 4th annual "Hometown to Hometown" event, raising over $200k in funds for music education programs in under-resourced public high schools. The evening was full of  poignant moments, heartfelt speeches and one-of-a-kind performances.
Female powerhouses Trisha Yearwood, Mickey Guyton and CMT's Leslie Fram were honored as the 2023 "Champions of the Year" for their contributions to the music industry and their passion for music education. Funds raised from the event will go towards developing music technology programs in Nashville as well as the honoree's respective hometowns in Jasper, GA (Yearwood) and Dallas, TX (Guyton).
Throughout the event, honorees, performers and speakers, including Kelsea Ballerini, Madeline Edwards, Caylee Hammack, Wendy Moten, Leslie Satcher, Brittney Spencer, Karyn Rochelle and Julie Williams spoke passionately spoke about the bonds shared by women in the music industry, including CMT's Next Women of Country program, and the importance of uplifting each other's careers.
Leslie Fram led a powerful and open conversation between fellow honorees Trisha Yearwood and Mickey Guyton, tapping into important themes of inclusivity and the unique challenges women face in the country music industry.
Kicking off the night's performances, Karyn Rochelle and Leslie Satcher paid tribute to Trisha Yearwood with two heartfelt renditions of "Georgia Rain" and "Help Me," both songs they wrote respectively and were later recorded by Yearwood. Tracy Gershon later presented Yearwood with the "Champion of the Year" award.
Performing on behalf of Mickey Guyton, Brittney Spencer delivered the night's first standing ovation with a chill-inducing rendition of Guyton's powerhouse anthem "Black Like Me." Caylee Hammack followed with a soul-stirring performance of "Sister," further cementing the night's theme of sisterhood among the female artists. UMG Nashville's Cindy Mabe later presented a tearful Guyton with her award as she reflected on her trailblazing journey throughout her career and the shift she has brought to country music.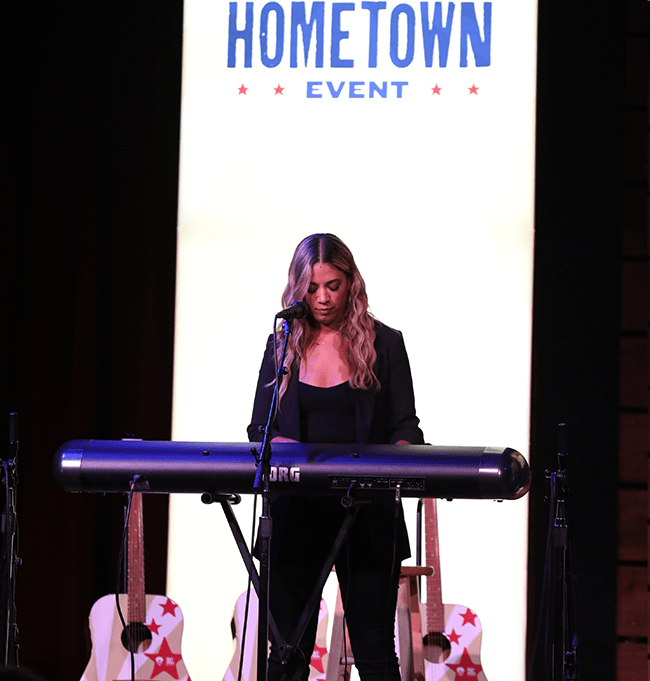 Dedicating her song "The Wolves" to Leslie Fram, Madeline Edwards touched on the ways Leslie has impacted her career stating: "Leslie is not afraid of anything. She is such a beacon of hope for women in this industry…she has been a massive inspiration. I attribute so much of my success to Leslie." Kelsea Ballerini then graced the stage, sharing anecdotes about her and Fram's relationships over the past 10 years before putting a fun spin on her latest single "IF YOU GO DOWN (I'M GOIN' DOWN TOO)."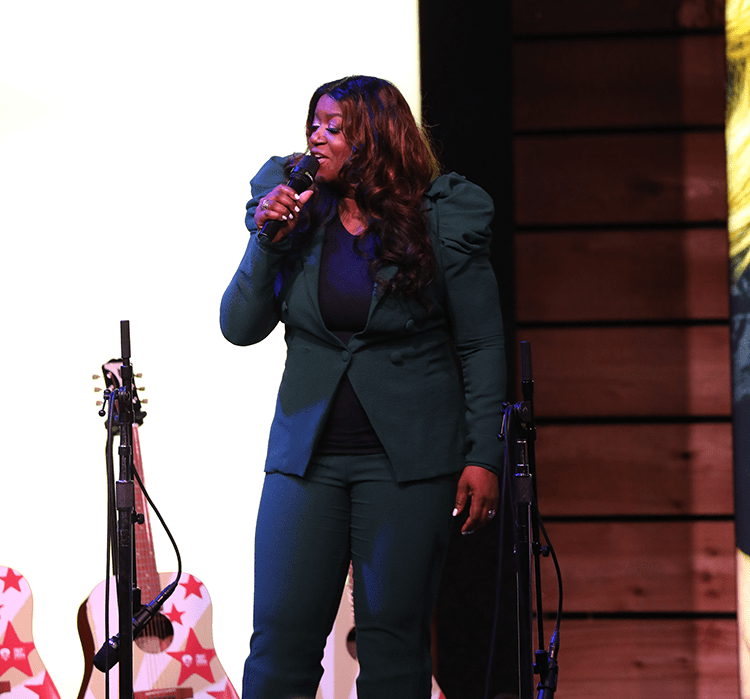 Billboard's Melinda Newman presented Leslie Fram with her award later in the evening, describing her as a "truth teller" and applauding her "fearless nature" when it comes to tackling issues in the industry, stating "The world would be a better place if there were more Leslie's in it." Fram then handed over her acceptance speech to singer Wendy Moten who commanded the stage with a surprise performance of "Don't Give Up," delivering the night's second standing ovation.
Save The Music grant recipient school Whites Creek High School in Nashville stole the spotlight when educator, Jonathan Curri and his three star students; Eric Yarber, Briah Robinson, and Isaiah Bailey recounted  the impact that the music technology grant has had on their school. Since receiving the hometown grant last year, Curri has created an impressive program which honorees: Leslie Fram and Trisha Yearwood were able to visit earlier this year.
"We are very grateful for the music equipment that was given to us, it has helped us create our own music and express our emotions and feelings in many different ways" – Briah Robinson
Since its inception in 2019, "Hometown to Hometown," hosted by Save The Music and SongFarm.org has empowered nine high schools with essential music technology equipment and valuable resources – with three additional schools planned for the Fall of 2023. 
Save The Music extends its sincere gratitude to the generous event sponsors who have made the "Hometown to Hometown" event possible. Special thanks go to Billboard, CMT, Gibson Gives, MAXISIQ, and MTV Entertainment Studios, and many others for their invaluable support.